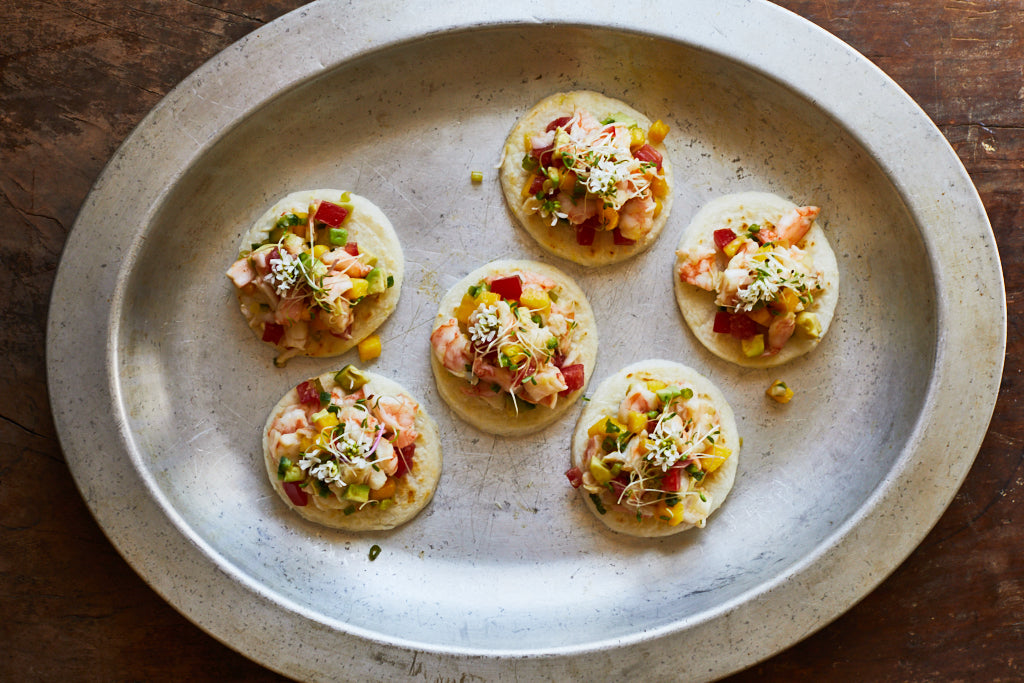 Arepitas with Shrimp and Mango Avocado Salsa
Arepitas with Shrimp and Mango Avocado Salsa are the perfect appetizer to serve at a summer cocktail party. Light, zingy, and full of flavor, these bites will disappear in minutes.
Time: 30 minutes Serving: 5 servings (2 per serving)
Ingredients
10 Delicias Andinas Arepitas
½ pound peeled deveined cooked shrimp, cut into bite-sized pieces
1 plum tomato, seeded and diced
2 scallions, minced
1 small avocado, peeled and diced
½ mango, peeled and diced
1 jalapeno, seeded and diced
2 Tbsp fresh lemon juice
3 Tbsp extra virgin olive oil
Alfalfa sprouts and edible flowers to garnish
Salt and pepper to taste
directions
Preheat oven to 350.
Mix all the ingredients in a bowl except for the Arepas and garnish. 
Set aside for the flavors to develop at room temperature.
Bake the mini Arepas until crunchy, about 14 minutes (7 on each side).
Place the mini Arepas on a platter and spoon 2 heaping tablespoons of the shrimp and mango salsa on each.
Top with sprouts and edible flowers.
Eat and enjoy.